LADIES & GENTS OF GOD COACHING APP
You might be feeling insecure, unloved, unworthy, not enough! Your traumas and your recurring life patterns are keeping you hostage. I bet you've tried to find your way out. To love yourself more or believe more in yourself, like they say. Maybe you've read books about it or watched videos or listened to podcasts. But you feel like you are not going anywhere. Maybe you've tried to stop your self-sabotage behavior. Like stop self-medicating your pain and insecurities with substances, food and drinks or behavior. Maybe you tried to find a love partner that will make you feel worth it. But that person seems non-existing or you just can't trust that they truly believe that you are important to them or that they value you. Maybe you've tried to do all the good stuff, so people and society can acknowledge you, but you are invisible to them. Maybe you've tried to go to church and be a good Christian, but you feel like a hypocrite and unloved and forgotten by God. Maybe you've tried to boost your mind with positivity, like positive quotes and affirmations... And nothing has quite worked for you, right?
Stop! Just stop trying to find your way on your own! You are not alone in this! There are many others that are dealing with the same. And I might be able to help. And, while I don't claim to know it all, I have helped (and am helping) several clients to truly reclaim their God-given self-worth in my practice as a therapist. They all follow similar steps in their journey and therapy with me together with the Lord. Yes, their faith, no matter how small or fragile, is what makes all the difference in therapy. I call them Ladies & Gents of God.
But I don't only know this journey of reclaiming your God-given self-worth only through my clients. I know very well how it is to be where you are now and to walk this journey. I was there too. Check episode #39 of my podcast.: "Hey, my name is Gladys and this is my testimony". Those days were rough. Surviving, trying, failing, drowning in pain and no matter what never giving up. If that's kinda how you feel right now, please allow me to be your guide and support you to get out of this. So that you stop feeling like you are the only one fighting or that you just can't find the way out to truly feel loved and worthy. Let me support you in reclaiming your God-given worth!
Here is what I'm proposing:
God has been calling me and preparing me for years now to be there for you and others that are dealing with insecurity, feeling lost, unloved and unworthy. He is still molding, guiding and backing me up when I feel like running away from this calling because of fear. But I'm stepping up in the faith.
I build and will continue to build a blueprint to guide you and others from feeling lost, ashamed, desperate, unloved, unworthy, not a good Christian to feel loved, worthy, healed, whole again and a woman/man to God's own heart. A unique blueprint to take you from feeling like a lost case to living life as God desired for you. I call it the RECLAIM blueprint.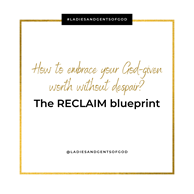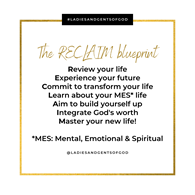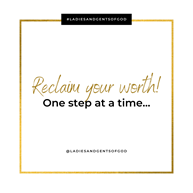 REGISTRATION IS NOW OPEN:  RESET YOUR SELF-WORTH CHALLENGE


So here's what's going to happen…
On  July 21st 2022,  these founding members will start working closely with me to achieve their goal of embracing their God-given worth via the RECLAIM blueprint. I will not let you fail! And I trust that if we are doing this with God, we cannot fail, because He doesn't fail! Let's start taking the right steps towards FINALLY achieving what you most desire: feeling totally worth it! 


So what do these 10 founding members get?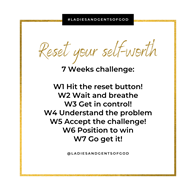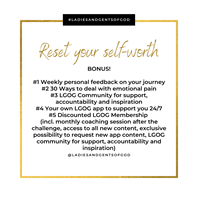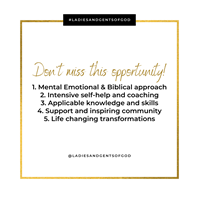 Access to RESET YOUR SELF-WORTH CHALLENGE
… so that you can position yourself for victory! 
 Bonus 1: Weekly personal feedback on your LGOG journey
… to give you the needed in-depth feedback and support.
 Bonus 2: 30 Ways to deal with emotional pain
… so you can have healthy and biblical options to deal with emotional pain.
 Bonus 3: LGOG Community on Passion.io
… for support, accountability and inspiration.
Bonus 4: Your own LGOG app
… to support you 24/7 and lifelong, if you wish.
Bonus 5: Discounted LGOG Membership 
… to support you for a lifetime in all different life phases and roles.
… incl. monthly coaching session after the challenge, access to all new coaching content, exclusive possibility to request new app content, LGOG community for support, accountability and inspiration.
The best part is, that you will get all of this for a huge discount as a founding member! 70%! When I do the full public launch, I'm going to charge €1397 for all of this. But I have a good reason for giving you a huge discount… 
I'm looking for 10 founding members, who I can work with closely over the next 7 weeks and beyond to get amazing results. I need to transform my one-on-one therapy sessions into an online coaching program to be able to serve millions. I'm looking to test and tailor my LGOG coaching program and app and get some killer testimonials, before releasing it to the wider public at the price it deserves. So that's why you, as one of the 10 founding members, will get all of what I mentioned above. All I need from you is your full commitment and €419.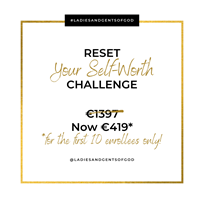 "Gladys discovered the diamond in me and today this diamond is shining!"
– testimonial of a LGOG
Interested in truly embracing your God-given worth?
Fill in the application form (click)! 
PS: You may be thinking… What's the catch? Well, there is no catch. I love honesty. I've told you exactly what it is. 
PPS: Remember there are only 10 spots available as founding members so if this sounds like what you are aiming for with all that you have, don't wait!